01- Bike Rental
Way of St James Bike Rental
bikes for rent in Spain
Bicycles equipped for biking and optimal use in the path of the "Camino de Santiago" ANY WAY or another route that our customers need a good bike for a tour.
We specialize in bike rentals in Spain and Portugal.
Through the virtual store bicigrino,

https://bicigrino.info/tienda_virtual/en/rental-bikes/99-bicycle-rental-in-spain-and-portugal.html

can already rent a SPECIALIZED disc brakes, Shimano 27 speed changes, semi pedals and front suspension fork ROCK SHOX adjustable from the handlebar (among other important features).
---
GET YOUR BIKE RENTAL IN THIS LINK
---
** IMPORTANT !! we sought and it is essential check availability before processing the bicycle rental.
Please select your size and time period and asks the OK to caminosantiagobike@gmail.com **
RENT CYCLING BICYCLE.

As every year we renew our fleet of rental bikes.
In 2017 bicigrino rental bikes they are all high-end tire and 29 ".

ANOTHER YEAR TRUST IN SPECIALIZED EPIC.
We have seen are those that will provide better service to our users and the more suitable for cycling and the Camino de Santiago.
We maintain virtually the same prices as in previous seasons and give a big jump in the quality of the bicycles.
We want to provide the best material to our customers and new brand bicycles as always.
---
CONSIDERATIONS OF RENTAL
For this service we need to process the request is made at least 10 days in advance.
All bikes have EPIC model 29 "wheels.
The rental price is the total price and included everything offered, including transportation of the bike chosen for the start point of the route.
* The only element not included in the rent is the helmet. We do not put the helmet for hygienic reasons (toilet not consider that helmets used will go past some customers to others) and also think it is as important an element of security that is required for the accurate and correct size. For these reasons we do not provide helmets on bicycles equipment but insist that it is mandatory that you wear a helmet when riding a bicycle (in Spain it is required).
On the road to Santiago we rely on our networks Lodging (LOOK HERE) for delivery and collection of bicycles. However if you want you can receive or deliver the bike in the same place you propose (eg hotels, cottages, bike shops ..).
During booking through this website you and you must provide us important data in the process such as:
- Start Day route.
- Delivery of the bike.
---
THE BIKE 

In collaboration with the prestigious Bicycle SPECIALIZED EPIC through the virtual store bicigrino we offer a bike with all guarantees to make the road to Santiago or any cycle route that comes to mind.
Remember that our bikes are delivered free of charge anywhere in Spain and Portugal.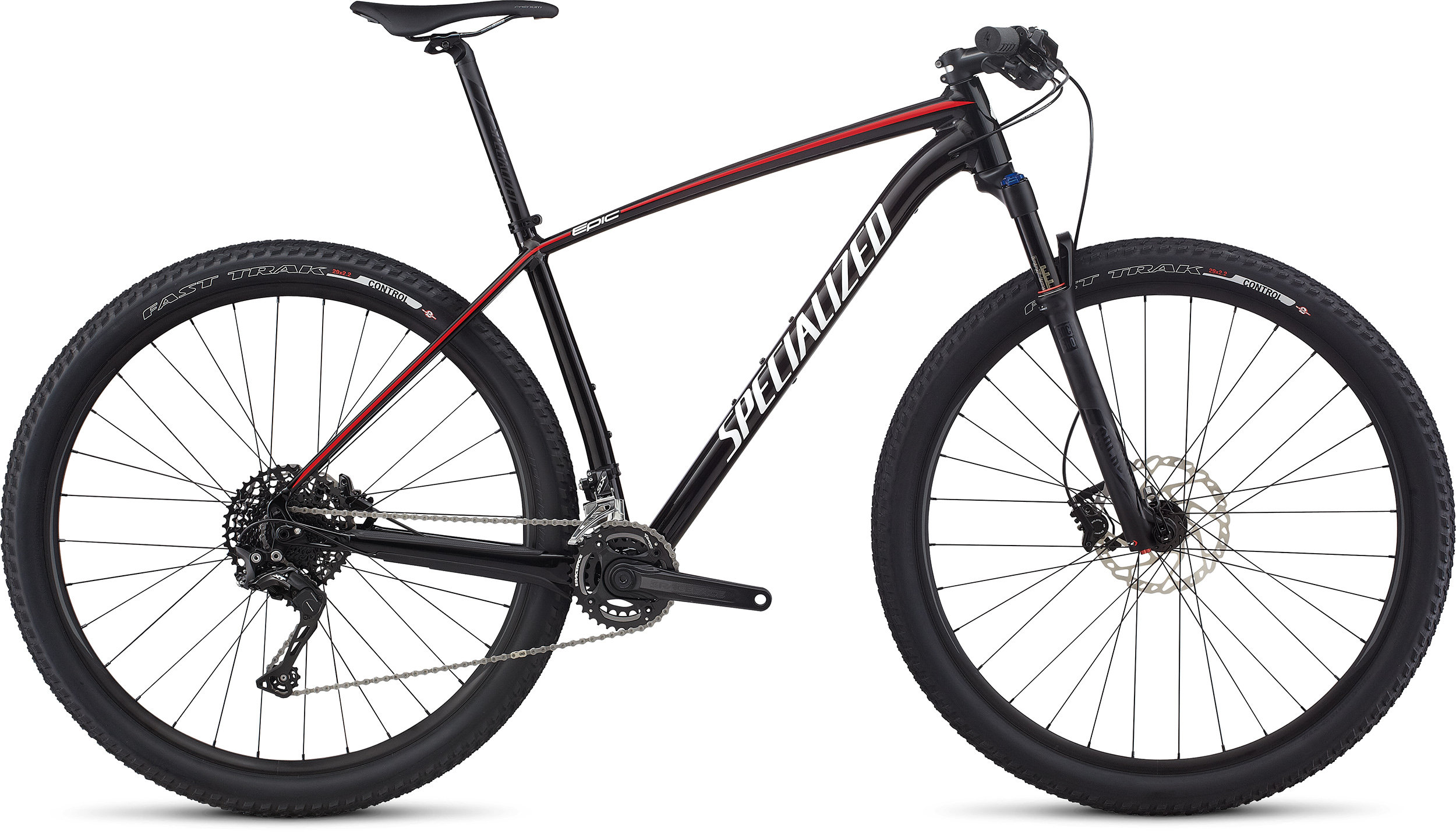 Here you can see the exact model of bike you rent a SPECIALIZED EPIC, This bike is equipped with high quality components and what is most important, with 29 "wheels which makes it ideal for cycling routes for tracks ground and as it were, for the road to Santiago.
This bike carries components including these highlights:
Disc brakes.

Changes SHIMANO Shimano Deore XT M8000,, Shadow Plus, caja SGS, 11-speed.

Semiautomatic Pedals (to suit the needs of users who are used to going with coves and those without.

Front suspension fork ROCK SHOX.

Ergonomic Grips.

Carrier specific to cycling.

Waterproof saddlebags.
Service bike rental bicigrino's website is geared to ease the way for those who choose to bike and not being able to use their own or for various reasons decide to opt for renting as a better option.
Bikes that are rented have been personally chosen by Bicicigrino after the experience of six paths made logical and most appropriate criteria and do this route with full warranty.
This is high-end bicycles with all Shimano components widely help resolve any eventuality during the route.
---
Benefits and Features WHEEL 29 "
EASIER HANDLING , Shorter straps boxes specially designed for 29 "wheels offer more rigiden the rear assembly making it more sensitive to driving. Also this bike brand Specialized is designed with tube shorter address that their behavior is more agile and have more control.
The 29 "wheels the bike to avoid strain between stones or sinking sand for example . This allows the bike go by land area and the traction is always soft.
The increased contact area of the tires makes bicycles equipped with these wheels have greater traction in loose terrain and / or rock . Allowing the rider to pedal with less effort by this type of terrain.
29 pass wheels literally " above" most of the bumps and holes of the land and that we would appreciate it even more if we like our case will be an additional charge.
Once you have caught inertia wheels 29 " remain much better speed than 26" wheels which is an advantage to keep in mind to roll on flat terrain .
---
IS MY SIZE?
Generally it is good to know that normally have 4 sizes (size 15, size 17, the 19 and the 21) they are the most common size for most users, and much generalizing people of normal build and height up to 1.70 will need a size 17 and exceeding 1.75 will need a size 19.
---
EQUIPMENT INCLUDED IN THE PACK.
The rental price is including shipping to anywhere that you propose to start the journey and also pick up anywhere in the Spanish or Portuguese geography decide to end your route.
(* Enquire if you need to rent a bicycle in any European country or in the islands ...)
The bikes come equipped among other things with these accessories designed to give you all the peace and security in route:
Racks and specific preinstalled.
Extensions on the handlebars for maximum comfort on the road.
Tyres specially chosen for optimal use in road travel.
Speedo.
Camino de Santiago Guide of bicigrino (magazine format)
* Bicigrino bottled water. At the end of the rental will take it with you as a souvenir. I'll give you.
Pair of panniers ORTLIEB BACK ROLLER CITY recommended on the website of bicigrino, waterproof, with fastening system for easy on and click Remove.
Padlock secure bicycle storage.
Practice the ideal bag for carrying by hand en route the camera or mobile phone (for example) top bar.
Tool kit with cameras, patches, pump and multi-tool (with chain tool) to solve any eventuality in route.
Kit grease and oil to lubricate the bicycle during the trip.
Gel Case for the saddle to prevent chafing.
** It is important and we remind you that for reasons of hygiene and safety helmet not included in the equipment. It is recommended to bring your own helmet or
rent one of our innovative helmets Høvding (airbag type)
---
HELMET AIRBAG RENT
As we have said repeatedly we have valued the opportunity to put our equipment rental service and a helmet we have ruled for two important reasons.
The first is hygiene. We do not consider neither logical nor advisable that helmets go past the sweat and dirt from the use of some other clients.
The second and more important reason is safety. The helmet is a safety element very necessary and indispensable in the practice of cycling. We therefore believe that it is vital to be in the right and proper size for each person's head. For both reasons we recommend bringing your own home town or values the option of renting one of our HELMETS Høvding.
Høvding is a collar that is placed on the neck like a scarf and should fall triggers an airbag that in matters of milliseconds head wraps and protects the cyclist before impact. The design of this magic helmet allows just changing the (washable) founded what customers can move from one another and also with the bonus that is a security feature that provides up to 4 times more protection than a conventional hull.
You can also feel the unique sense of freedom when pedaling with the head totally free yet protected 100%.
** It is important to know that this town is a single use, if it will remain active destroyed and can not be used anymore. It will be activated only at a strong decelarión or with an obvious impact. If that happens it will retain the compulsory deposit that goes along with bicycle rental. The cost of 200 euros that has that bond will be nothing compared to saving your life thanks to this helmet.
---
YOUR LUGGAGE.
Yes we pick you request your personal baggage at the point of delivery of the bike and manage your transportation when you arrive at the end of the route you are waiting at the place we give it back to the bike you rent us .., this service is not is included in the rental price and will have to be hired separately (you'll find offered in our shop for 30 euros).
* Optional service not included in the rental price for bicycles.
---
INSURANCE.
In bicigrino know what's worth your safety and your peace of mind especially. We are accredited professionals and we have an insurance policy to cover liability and ensure any contingency that may occur. For us it is very important to offer our services under guidelines of accountability and efficiency so that apart from the good reviews that you can obtain and certify through the opinions of our users and do not want to leave anything to chance and work toward optimal service and guaranteed.
---
ASSISTANCE 24 HOURS.

We have a network of garages that broadly cover all the way to Santiago.
We have arrangements with taxi services and professionals who can ship your solucinarte meeting for any contingency.
Our wide range of accommodation (hotels, cottages, lodging) will give coverage to any problem.
Our contact number (627 928 213) contectado always attentive to orient and solucionarte any contingency during your route ..
---
RENTAL CONDITIONS.
- By purchasing this product in any PACKS and the price indicated in the offer you are paid exclusively rental service .
- The rental price is included the cost of transport to the starting point of the path and the return of the bike from Santiago or any point to our base.
- Narrow the rental of this particular bike model , you need to pay a deposit of 200 euros ( per bike ) that you can purchase through the online store of bicigrino , in " Bicycle Rental " paying so separate payment of rent. This is indicated as DEPOSIT will be refunded once received and checked the bikes good use and condition thereof. Without the necessary and compulsory payment of this bond order requesting any one or more rental bikes are not considered valid .
-When you arrive in Santiago you can stop by our official store in Pza Platerías 1, (use the clock tower of the Cathedral as a reference to find it); There we will indicate where to deliver your bicycle rental, or in your case for transportation back to your home.
You can also print your train tickets or plane and receive advice on transport, packaging, typical places to eat, accommodations etc.
- Bicycles are new or semi - new and is delivered in perfect magazine , so it will be the responsibility of the users basic care and maintenance to ensure good use of them. We will take care of repairs attributable to mechanical defects route, but users will be responsible for the damage and failures attributed to poor or inadequate use of bicycles.
- For any questions or special need on bike rentals or need in route once you rented the bike please contact me through this e- mail: tomas@bicigrino.com 
** IMPORTANT! have high demand and it is important and indispensable check availability before processing the bicycle rental. Please select your size and time period and claims the OK to caminosantiagobike@gmail.com**